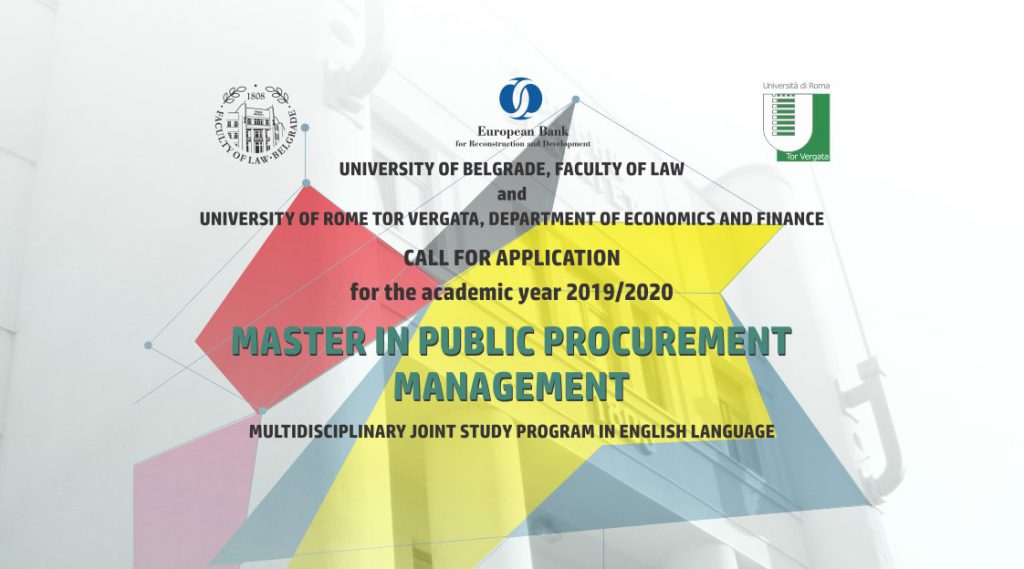 Master in Public Procurement Management (MPPM) is an interdisciplinary master studies program covering many aspects of public procurement responding to the national and international need to train and educate students and public procurement professionals to respond to modern challenges arising in the public procurement profession. Key pillars include legal framework and economic principles for effective public procurement, organization and strategy of public procurement, strategic tools for public procurement procedure, economic analysis of the market and cost analysis. In addition, the MPPM provides capacity building on public procurement principles and best international practices of the main international financial institutions.
The MPPM has a strong focus on the students from Western Balkan countries, under the initiative and support of the European Bank for Reconstruction and Development (EBRD).
Applications are welcome from April 1, 2019 to mid-September 2019, on the basis of rolling admission.
Applicants should send an e-mail with supporting documents (copies of the passport, diplomas, CV and motivation letter) to MPPM Center for Public Administration and Public Procurement, attention to Mr. Veljko Sikirica, MPPM Director – Admissions and International Cooperation, veljko.sikirica@ius.bg.ac.rs.
After successful completion of this one year study program, students will acquire 60 ECTS and a joint diploma of the University of Belgrade and University of Rome "Tor Vergata" with the academic title Master in Public Procurement.
In order to be eligible to be admitted and participate in this program, applicants should have completed at least four (240 ECTS, as one cycle) or five years of university studies (300 ECTS) and earned a valid degree that allows access to second level programs in Serbia and in Italy. Proficiency in English is also required. Preference will be given to applicants with five years of prior working experience in public procurement. Only a limited number of applicants who have recently graduated and who have little professional experience in public procurement will be taken into consideration, on case by case basis.
Additional information:
http://www1.ius.bg.ac.rs/master-in-public-procurement-management-mppm/
Master Secretariat, e-mail: masterprocurementbg@ius.bg.ac.rs, phone: +381 11 3027 677