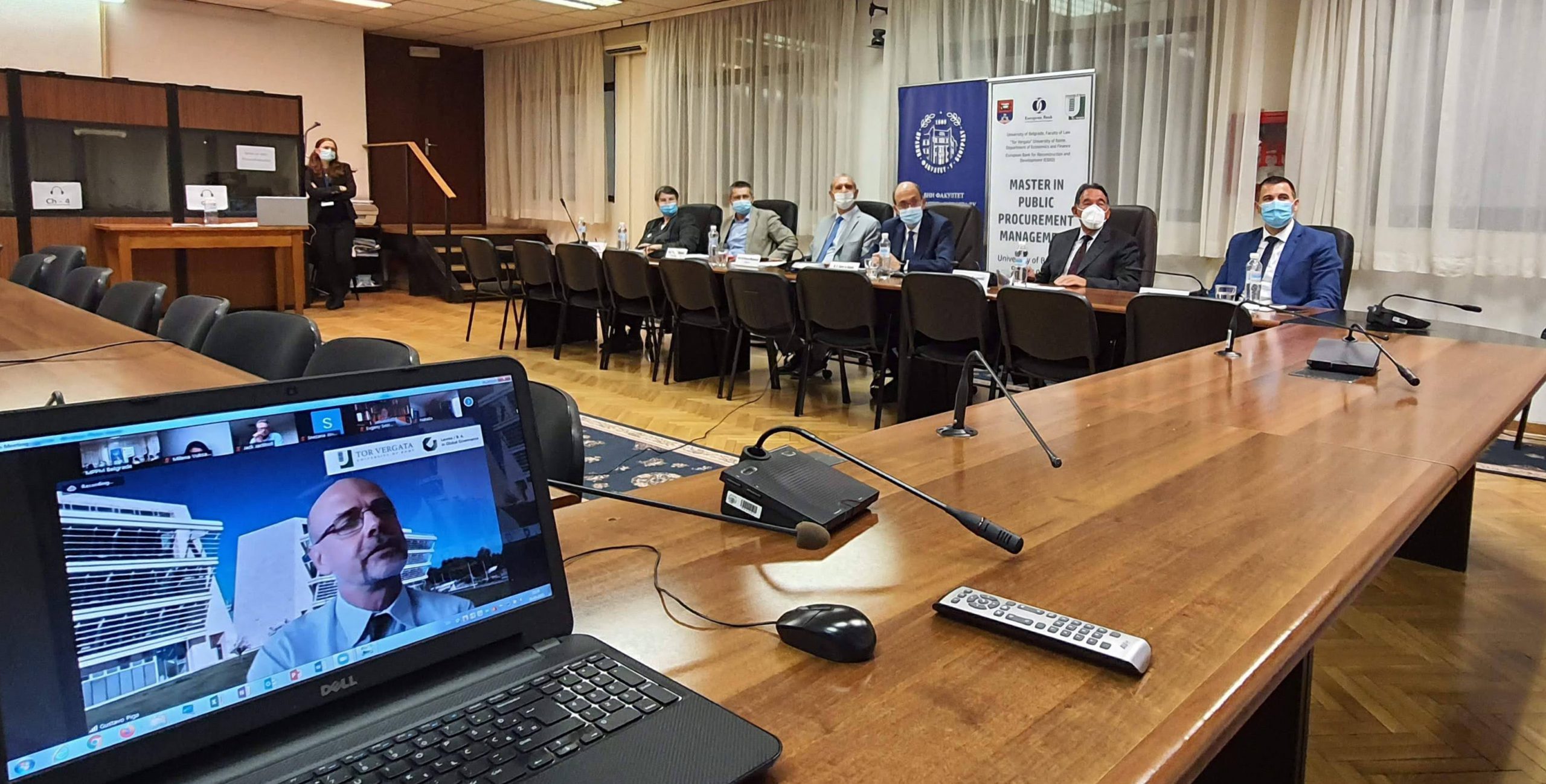 Opening ceremony of the 4th edition of Master in Public Procurement Management was held on September 30, 2020 at the University of Belgrade Faculty of Law, with online participation of students and speakers from other countries.
Students were addressed by H. E. Ambassador of Italy in Serbia Mr. Carlo Lo Cascio, Rector of the University of Belgrade Prof. Dr. Ivanka Popović, Dean of the Faculty of Law Prof. Dr. Zoran Mirković, as well as by the EBRD repesentatives Mr. Jan Jackholt and Mr. Evgeny Smirnov. Prof. Dr. Gustavo Piga delivered a speech on behalf of the University of Rome Tor Vergata and International Master in Public Procurement Management, while Mr. Branimir Blagojević, as its president, presented activities of the IMPPM/MPPM Alumni Association.
Honorary lecture was delivered by Dr. Sima Avramović, professor of the University of Belgrade Faculty of Law and President of the Management Board of the National Entity for Accreditation and Quality Assurance of Serbia. Moderator of this event was Prof. Dr. Dobrosav Milovanović, MPPM Director.
The 4th Belgrade MPPM edition consists of 28 students: 16 from Serbia, 6 from North Macedonia, 4 from Bosnia and Herzegovina, 2 from Montenegro. 27 students who fulfilled conditions received scholarship from the EBRD.
Upon conclusion of the ceremony, introductory module concerning the contents of the program was started by Prof. Veljko Sikirica and Prof. Dobrosav Milovanović, while Ljiljana Marić on behalf of the MPPM Secretariat informed students on all administrative issues about enrolment. The next lecturing day was dedicated to practical work in groups and analysis of case studies.
In the following eight months students will attend lectures within 12 modules and continue with their internship period and preparation of the final Master Thesis. Lectures will be held online until conditions with regard to Covid-19 pandemic change in favour of in-presence lecturing.